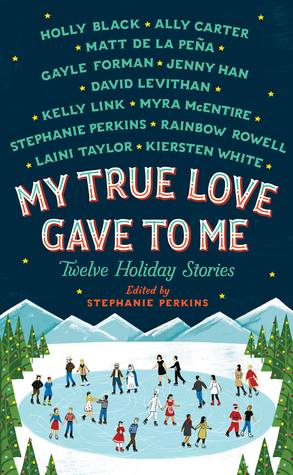 I love Christmas, and I actually also love Christmas anthologies! I really didn't know how they were going to be able to fit 12 stories into such a small amount of pages. This was a mix of sparkling gems, indifferent metals, and ones that I wouldn't have minded skipping that I rushed through. So, I'm going to do my review a little different - giving stars to each story, some books I'll talk about more than others because they are the ones I really liked.
Here are the authors I had read before and looked forward to reading
Ally Carter
Stephanie Perkins
Gayle Forman
Rainbow Rowell
Midnights by Rainbow Rowell
3/5 Stars
I read and enjoyed Fangirl by Rainbow Rowell and hers was one of the stories I had looked forward to reading. Midnights was a sweet read. I really liked how it went through a series of New Years and I laughed a little, yet this book didn't strike me in a way that lit a spark.
The Lady and the Fox by Kelly Link
2.5/5 Stars
I've never read anything by Kelly Link so I didn't really have any expectations on this one (other than the usual "I hope it's good"). I didn't know what to expect, but it managed to be very different in a indifferent way. I liked parts of it - it was sweet at times, but other parts I didn't enjoy as much and got bored, again it didn't hit a spark.
Angels In The Snow by Matt De La Pena
3/5 Stars
I'd never read anything by this author either, but I actually kind of enjoyed parts of this story. Once you get past some of the language and get into it, it's kind of interesting. The premise was interesting and I enjoyed the banter and the time they spent learning about each other. What I didn't like was that this one wasn't as clean as I'd like.
Polaris Is Where You'll Find Me by Jenny Han
3.8/5
I've never read anything by Jenny Han, but I really enjoyed her writing style in this story. I loved the unique setting and the characters, yet it ended kind of mysteriously.
It's A Yuletide Miracle, Charlie Brown by Stephanie Perkins
4.8/5
I like Stephanie Perkins books, and this one was no exception! This was one of my favorites in this collection. I loved all of the witty banter, the writing style was fantastic, the setting and actions interesting. I loved every minute of it! North was totally swoon worthy, and his name was pretty awesome as well. While it was short and spanned a very short amount of time, it covered a lot and it definitely hit that special mark!
Your Temporary Santa by David Levithan
Did not finish.
Krampuslauf by Holly Black
1/5
I mainly skimmed and rushed through this story. There were parts that were okay, sentimentalities that I liked, but this wasn't exactly a writing style or story that I was drawn to.
What The Hell Have You Done, Sophie Roth by Gayle Forman
4/5
I've read some Gayle Forman before, and this story exceeded my expectations because it didn't make me cry! I laughed and really enjoyed the banter and "adventure." Two big city outsiders might not be such outsiders after all!
Beer Buckets and Baby Jesus
5/5 Stars
I've never read anything by Myra Mcentire before but I might look into her books now. This was actually one of my favorites despite any misgivings that the first word in the title gave me (trust me it doesn't have anything to do with drinking). In fact this was probably the most Christmassy of the twelve stories. The true meaning of Christmas - baby Jesus - and faith were present in this one and I loved the themes of forgiveness that were present. This story was interesting and sweet with history and banter that made me laugh!
Welcome to Christmas, CA by Kiersten White
4.5/5
I've never read anything by this author either, but I can honestly say that I liked this story. The town of Christmas and Christmas had lost their sparkle for the main character, yet when the new chef (a handsome young man) with a magic touch came to town, things just might start to brighten up a little. I liked the journey of discovery that the main character went on, along with the moments of playful banter in the restaurant, and hidden nice side.
Star of Bethlehem by Ally Carter
5/5
I am a huge fan of Ally Carter - who could manage not to be? - so I had very high expectations for this story. And they were all met and exceeded! I loved the idea of switching places with a total stranger (especially one from another country)at the airport and coming to fall in love with the boy that likes the other person! This story was very interesting and in true Ally Carter fashion Lidy had a secret and a life she was hiding from. I enjoyed the small amount of mystery, the depth, and sweet story of love and family!
The Girl That Woke The Dreamer by Laini Taylor
4/5 Stars
This story pleasantly surprised me. I enjoyed the writing style, and it had a very interesting setting, history, and premise. It was magical and unique. While not a favorite, it was interesting.
Overall 3.7 Stars (yes I did the math and divided by 11 since I didn't finish 1)
Have you read this one yet? Which stories did and didn't you like?