I'm leaving today for a short-term mission trip to Romania! I'm so excited to be going with a small group of eight other people from my Church to Romania to work with the Corabia Foundation spreading the word of God, along with his light and love! We will working at the House of Hope with some full time missionaries. They work with the children and teens in the area, as well as the Roma Gypsy children and teens. We will be doing two three day Vacation Bible School type lessons, the first three days with the local children and the last three days with the gypsy children! I am so excited to do the lessons, crafts, and games we have prepared for them! I'm sure I'll learn as much from them as they will from us, if not more!
I can't help but marvel at how awesome God is, and how much he has blessed us! His love is everlasting, and he is always there for us! Throughout this process God has been by my side, encouraging me, and giving me the strength and courage to make this journey. Every single time that I have doubted myself, or thought "what was I thinking, I'm just one person, I can't make a difference, no matter how small," God has stepped in and let me know that this is what he wants me to do! This is the path that He is leading me on, and I just need to relinquish myself fully to him! Whether he told me this through a song on KLove, a sentence in a book or the Bible, something someone said, or through a Bible verse that popped into my head, at just the right moment, I knew it was God speaking to me! I just need to let Him write my story!
Every single person out there has the ability to make a difference in this world! There are no small differences, every single small difference counts! If I just encourage one child or person while I'm in Romania, I will have made a difference in that persons life, and that's all that matters - that child/person knows God and they will continue to grow in their relationship with him!
While I'm gone (and for a few extra days) I will not be posting on my blog. I'm going to take this time to rejuvenate myself, and completely focus on the Lord! I'll try to check any important emails or reply to any important comments while I'm gone (mainly while I'm at the airport, though there is internet there). I hope to come back with lots of stories and posts, as well as a new meme/feature that I came up with last week!
I want to say a huge thank you to everyone who has supported me on this journey. Especially my parents who have trusted God and allowed me to go so far from home to spread the love of God to the Romanians! As well as everyone who donated money and kept me and this mission trip in their prayers. I am so eternally grateful for each and every one of you, and you will never know how much it means to me!
One of the things we had to do to prepare for this trip was to write our own short one-page testimony, and I feel compelled to share it with you today.
Faith has always been a very big part of my parents lives, therefore I grew up going to Church. My mom was the Sunday School teacher at our Church and I remember her teaching me and the other children about God's love and all he had done for us. That was the beginning of my faith and relationship with God.
Though I believed in God at a very young age, I didn't really have a relationship with Him. I felt like I had to be perfect, I was always worrying about everything from what we were doing at school to what other people thought about me. I was also extremely shy, never talking to anyone unless they were family, one of my friends, or if they talked to me first. I wasn't living the life I was meant to live.
Then I realized that everything the Bible said was true. "For all have sinned and fall short of the glory of God" (Romans 3:23). Everyone sins and God is the only one who is perfect. "For the wages of sin is death, but the gift of God is eternal life in Christ Jesus our Lord" (Romans 6:23). God gave His son, Jesus, to pay the penalty for our sins by dying on the cross, breaking the barrier between us and God, so that we could have everlasting life and a wonderful relationship with Him. "Nothing impure will ever enter it (Heaven) nor will anyone who does what is shameful or deceitful, but only those whose names are written in the Lamb's book of life" (Revelation 21:27). God loves us no matter what, we only have to acknowledge that we are sinners, ask for his forgiveness, believe in Him, and trust in Him, so that we may have eternal life in Heaven! Christ is the only one who can save us! "For it is by grace you have been saved, through faith - and this is not from yourselves, it is the gift of God - not by works, so that no one can boast" (Ephesians 2:8-9). "Therefore my friends, I want you to know that through Jesus the forgiveness of sins is proclaimed to you. Through Him everyone who believes is set free from every sin, a justification you were not able to obtain under the law of Moses" (Acts 13: 38-39). "'He himself bore our sins' in his body on the cross, so that we might die to sins and live for righteousness: 'by his wounds you have been healed'"(1 Peter 2:24). "For God so loved the world that he gave his one and only son, that whoever believes in him shall not perish but have eternal life" (John 3:16). Jesus, our Savior, paid for all of our sins on the cross, and God gives eternal life - which lasts forever- to all of those who have faith in Him.
Once I fully realized all of that, it was like I was given a new life! My everyday life was changed forever. I no longer cared what other people thought of me, only what God thought. I could finally be myself. Where I had always worried about everything before, there was an inner peace and calmness about me. This inner peace was something that I had never experienced before and I knew that it came from my belief and trust in God. I gave all of my worries to God, and trusted Him to lead my life. It was easier to make new friends and with God's help I am finding it easier and easier to have the courage to talk to new people and do things that I could never have done without God's help. My life has opened up and blossomed because of God's love for me!
Life will always have its ups and downs, but God will be there through it all. Knowing that God is there for me with forgiveness when I need it, strength to hold me up and encourage me through all I do in life, everlasting love, and guidance for where I am meant to go and who I am meant to be, has had a huge impact on my life! All I had to do was believe and trust in God. I just need to keep God at the center of my life and trust in Him to lead me to where He is calling me and what He is calling me to do!
God has also shown me my calling, leading me to teach the young children at our church about Him and all that he has done for us. I truly love it, and it has impacted my life in so many ways! I will allow God to continue writing my story and guiding me on the path He is leading me to tell more and more people about Him!
I want to continue telling others all about God, and I want all of you to know about his everlasting love for us. I hope someone out there finds some encouragement from this post, no matter what you may be going through!
I'll see you all when I get back!
Don't forget to enter these giveaways!
The wonderful Jennifer Hartz (author of the Future Savior series, Heroes of the Horde series, and The Ghost Runner) has offered to giveaway 3 eBook copies of the first book in each or her series! They are both amazing, and I really think you will enjoy them! Enter into either or both of the rafflecopter giveaways below for chances to win!
My Reviews (both 5 stars)
Conception (Future Savior #1)
by Jennifer Hartz
Unleashed (Heroes of the Horde #1)
by Jennifer Hartz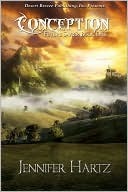 Good luck, and hope you enjoy!