The wonderful Jennifer Hartz (author of the Future Savior series, Heroes of the Horde series, and The Ghost Runner) has offered to giveaway 3 eBook copies of the first book in each or her series! They are both amazing, and I really think you will enjoy them! Enter into either or both of the rafflecopter giveaways below for chances to win!
My Reviews (both 5 stars)
Conception (Future Savior #1)
by Jennifer Hartz
Unleashed (Heroes of the Horde #1)
by Jennifer Hartz
Find Jennifer Hartz
Website: http://jenniferhartz.com
Facebook: Jennifer Hartz
Facebook: The Future Savior Series
Twitter: @JenniferLHartz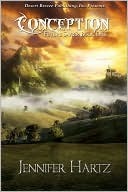 Good luck, and hope you enjoy!