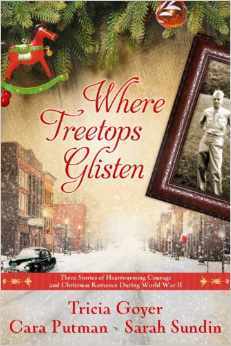 The crunch of newly fallen snow, the weight of wartime
Siblings forging new paths and finding love in three stories, filled with the wonder of Christmas
Turn back the clock to a different time, listen to Bing Crosby sing of sleigh bells in the snow, as the realities of America's involvement in the Second World War change the lives of the Turner family in Lafayette, Indiana.
In Cara Putman's White Christmas, Abigail Turner is holding down the Home Front as a college student and a part-time employee at a one-of-a-kind candy shop. Loss of a beau to the war has Abigail skittish about romantic entanglements---until a hard-working young man with a serious problem needs her help.
Abigail's brother Pete is a fighter pilot hero returned from the European Theater in Sarah Sundin's I'll Be Home for Christmas, trying to recapture the hope and peace his time at war has eroded. But when he encounters a precocious little girl in need of Pete's friendship, can he convince her widowed mother that he's no longer the bully she once knew?
In Tricia Goyer's Have Yourself a Merry Little Christmas, Meredith Turner, "Merry" to those who know her best, is using her skills as a combat nurse on the frontline in the Netherlands. Halfway around the world from home, Merry never expects to face her deepest betrayal head on, but that's precisely what God has in mind to redeem her broken heart.
The Turner family believes in God's providence during such a tumultuous time. Can they absorb the miracle of Christ's birth and His plan for a future?
TRICIA GOYER is a prolific author of nearly forty books, including Chasing Mona Lisa, and a speaker and blogger.
CARA PUTMAN is the author of twenty books including Shadowed by Grace. She is the winner of the 2008 Carol Award for historical fiction.
SARAH SUNDIN is the critically-acclaimed author of the Wings of the Nightingale series, the Wings of Glory series, and the forthcoming Waves of Freedom novels.
I was so excited to start my Christmas reading with this anthology of three completely amazing Christmas stories! Each story was wonderful, unique yet connected, and perfectly Christmassy, which was just what I was looking for! I loved each one equally and don't even have a favorite.
The settings were interesting from delightful Lafeyette all the way across the sea to war infested Europe, all taking place within one family during WWII. These stories brought the time period to life and filled it with the faith, fear, hope, hard work, self discovery and Christmas spirit that is so inspiring from that time period! Each sibling had been affected by the war in different ways, different circumstances leading up to their story and what makes it so special, but they all have their family and Christmasiness (I'm not sure if I just made up that word or not, but I like it) in common.
It was inspiring to read about the characters efforts to help with the war effort, I loved the special touch that the references to "new" Christmas songs being made brought to the stories, the feelings of Christmas, hope, family, faith, and self discovery, as these characters came to trust in their Savior again!
If you're looking for a great Christmas story(or three) of faith, hope, and family you must get this book - trust me there's something in it for everyone!
I received a free copy of this book in exchange of an honest review. All thoughts and opinions are solely my own.