I'm so excited to share The Captive Imposter by Dawn Crandall with all you book lovers today! As many of you know, I loved Dawn Crandall's first two books in the Everstone Chronicles (
The Hesitant Heiress
and
The Bound Heart
, and this one definitely did not disappoint!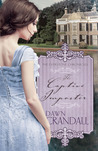 The Captive Imposter by Dawn Crandall
Goodreads Summary
Sent away for protection, hotel heiress Estella Everstone finds herself living undercover as a lady's companion named Elle Stoneburner at one of her father's opulent hotels in the mountains of Maine—the one she'd always loved best and always hoped to own one day, Everston. The one thing she doesn't like about the situation is that her ex-fiancé is in the area and is set on marrying someone else. Reeling from her feelings of being unwanted and unworthy, Estella reluctantly forms a friendship with the gruff manager of Everston, Dexter Blakeley, who seems to have something against wealthy young socialites with too much money, although they are just the kind of people Everston caters to.
When Estella finds herself in need of help, Dexter comes to the rescue with an offer she can't refuse. She sees no other choice aside from going back home to her family and accepts the position as companion to his sister. Throughout her interactions with Dexter, she can't deny the pull that's evidenced between them every time he comes near. Estella realizes that while she's been hiding behind a false name and identity, she's never been freer to be herself than when she's with Dexter Blakeley. But will he still love her when he finds out she's Estella Everstone? She's not entirely sure.
Drop by author Dawn Crandall's blog or Facebook page to check out all the posts and giveaways going on throughout the next few weeks! There will be lots of prizes and giveaways!
My Review
I have been impatiently waiting to finally get to read Estella Everstone's story, and what an intriguing one it turned out to be! Dawn Crandall definitely has a knack for creating likeable characters, inspiring messages, and a mixture of everything that culminates to make a perfectly captivating story.
As the daughter of a wealthy hotel owner, and at the top of the social circles, Estella Everstone struggled with feelings of being unwanted, unworthy, and invisible. People never saw her for who she truly was, and only wanted to befriend her for her status, until Dexter Blakely that is. He sees the real her, know what she loves to do, sees inside her heart, yet he doesn't know her true name, and that right there is the problem. Dexter Blakely is a man of God, but he wasn't beyond holding a grudge that endangered the growing feelings between the,. Things were definitely complicated, they both had a lot to overcome - past wounds and insecurities. Can God help love triumph over their trials?
The setting was descriptive and so easy to picture in my mind. Estella's pure love for Everston was clear, and I must admit that it found a way into my heart as well.
I truly enjoyed the journey that Captive Imposter took me on. I loved both characters growth, renewed faith, trust in God, and love for each other. Their strength and kindness, and the way they tried to overcome Estella's obstacles. The relationship between Dexter and Estella was so entertaining, and the moments they spent together were witty and so enjoyable to read. Definitely swoon worthy:) They left me smiling, and rooting for them the whole time! I appreciated how they truly got to know each other, and had such a mutual endearing regard for each other.
The other characters were just as intriguing and fun to get to know. I enjoyed getting to know Roxy, and seeing what happened between Estella and her ex (I really disliked him at many points in this book), then there was Dexter's mean spirited mother, Estella's encouraging father, and so many more that I can't name because that would take the fun out of meeting them for yourself.
I loved every minute of this novel. Dawn Crandall clearly created two more characters that instantly wormed their way into my heart! There was suspense intertwined with the witty humor and romance, and a perfect balance of depth and light hearted fun! The messages were inspiring. You really need to read this beautiful series for yourself to get the full, captivating effect!
I received a free copy of this book in exchange of an honest review. This in no way affected my opinion, and all thoughts and opinions are solely my own.
A graduate of Taylor University with a degree in Christian Education, and a former bookseller at Barnes & Noble, Dawn Crandall didn't begin writing until her husband found out about her long-buried dream of writing a book. Without a doubt about someday becoming traditionally published, he encouraged her to quit her job in 2010 in order to focus on writing her debut novel,
The Hesitant Heiress
. It didn't take her long to realize that writing books was what she was made to do. Dawn is represented by Joyce Hart of Hartline Literary.
Apart from writing books, Dawn is also a first-time mom to a precious little boy (born March 2014) and also serves with her husband in a pre-marriage mentor program at their local church in Northeast Indiana.
Dawn is a member of Romance Writers of America, American Christian Fiction Writers, secretary for the Indiana ACFW Chapter (Hoosier Ink), and associate member of the Great Lakes ACFW Chapter.
The Everstone Chronicles is Dawn's first series with Whitaker House. All three books composing the series were semifinalists in ACFW's prestigious Genesis Writing Contest, the third book going on to become a finalist in 2013.
So, without further ado, go check it out! Enjoy!