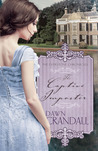 Release: February 2015
Goodreads Summary
Sent away for protection, hotel heiress Estella Everstone finds herself living undercover as a lady's companion at Everston, one of her father's opulent hotels in the mountains of Maine—the one she'd always loved best and always hoped to own one day. Within the week, Estella discovers that her ex-fiancé is in the area and is set on marrying someone else. Reeling from her feelings of being unwanted and unworthy, Estella forms a friendship with the manager of Everston, Dexter Blakeley.
She soon discovers that he is not simply the manager, but the new owner. Resentment takes hold in her heart, and she decides to sever the friendship.
When she finds herself fired from her position due to a misunderstanding, Dexter comes to the rescue with an offer to hire her as companion to his sister. Though she doesn't want to be indebted to him, Estella sees no other choice aside from going back home to her family. Through the rebuilding of their friendship, and despite her earlier hard feelings, Estella realizes that although she's been lying to him about her identity, she's never been freer to be herself in her life. However, when he proposes, she has to tell him the truth—a truth he isn't happy to find out.
Why I'm Waiting
I've read the two previous books in this series, and they were both amazing. Estella was introduced in them, and I'm very curious to find out more about her and hear her story!
What are you waiting on?