The Cinderella Theorem
(The Lily Sparrow Chronicles #1)
by Kristee Ravan
YA Urban Fantasy
Paperback, 367 pages
March 17th 2014
Fairy tales are naturally non-mathematical. That is a fact, and fifteen-year-old Lily Sparrow loves factual, mathematical logic. So when her mother confesses that Lily's deceased father is (a) not dead, (b) coming to dinner, and (c) the ruler of a fairy tale kingdom accessible through the upstairs bathtub, Lily clings to her math to help her make sense of this new double life (1 life in the real world + 1 secret life in the fairy tale world = a double life).
Even though it's not mathematical, Lily finds herself being pulled into a mystery involving an unhappy Cinderella, a greasy sycophant called Levi, and a slew of vanishing fairy tale characters. Racing against the clock, with a sound mathematical plan, Lily attempts to save her fairy tale friends while proving that normality = happiness.
Amazon
Calling for Reviewers!
We're looking for reviewers! You don't need a blog to sign up, but you do need to at least post a review on Amazon. Other sites (blog, Goodreads, etc.) are also appreciated. Reviews must be completed by the end of November. To sign up, please fill out
this form
.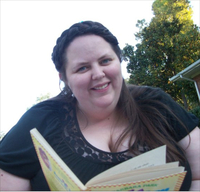 Kristee Ravan
lives in Oklahoma with her husband, daughter, and pet fish, Val (short for Valentine). She wanted to be many things as she grew up including a general, an artist, and an architect. But she never bothered to say, "I want to be a writer when I grow up." She was always writing stories and thought of herself as a writer anyway. She sent her first story to a publisher in the sixth grade. (It was rejected - in a nice way.) When she is not making up stories in her head, she enjoys reading, juggling, green smoothies, playing dollhouse with her daughter, and hearing from her fans. You can contact Kristee at the facebook page for her Lily Sparrow books: The Lily Sparrow Chronicles.
Website - Goodreads - Facebook - Amazon
An Interview with Kristee Ravan
Now I would like to say a huge thank you to Kristee Ravan for taking the time to answer these questions and for letting me read and review her book! Welcome to Wonderous Reviews!
What inspired you to write The Cinderella Theorem?
On my recommendation, my sister stayed up all night reading Ella Enchanted by Gail Carson Levine. (I recommended that she read it, not that she stay up all night.) The next morning, at breakfast she said, "You should write a book like that. Something with Cinderella." My sister loves Cinderella.
So the idea of a Cinderella book was turning around in my head.
A few weeks after that, my college roommate confused two really well-known fairy tales in a casual conversation. My roommate also happened to be a math major.
Then the story started clicking. What if someone who was clueless about fairy tales and loved order and logic found herself the future ruler of a magical (illogical) fairy tale kingdom?
What is your favorite thing about writing a book partly set in a fairy-tale world?
Thinking up things like Marvelous Midas Creme—magical ice cream made by King Midas. From one carton, everyone will magically have whatever flavor is their favorite in their bowl. Creating the structure for HEA (The Office of Happily Ever After Affairs) was a lot of fun too!
Mmmm. The mention of Marvelous Midas Creme always makes me hungry for ice cream (or gelato)! What is your favorite fairytale and your favorite fairytale character and why?
I really like Beauty and the Beast the best because they actually spend time together and fall in love before getting married. But my favorite character might be Clever Manka. She uses her wits to help her father, which leads to her marriage. Then she uses them again to save her marriage. But every time she does so, she is careful not to be boastful or proud of her quick mind.
Beauty and the Beast is my all time favorite too! Do you have a favorite character in The Cinderella Theorem or one that was extra fun to come up with/write about?
I enjoy writing Levi, the bad guy. His scenes are among my favorites. And I like gently making fun of myself through, Ginnie, Lily's writer-mother. Ginnie is not completely like me (I'm not very distractible), but there are some similarities (I cannot control my story characters, either). I also really enjoyed all the arguing that Lily and Calo do.
Uncontrollable characters just show how much life you gave them! Was it hard to incorporate mathematics into a fairy tale setting?
It really wasn't. I like math; I like fairy tales. They are already both inside of me so I could pull them out and use my imagination to combine them.
If you were living a double life, like the main character in your story, what would it be?
Since I have an active imagination, I am usually living a double life anyway; I will typically have a story going on in my head while I'm changing the laundry over or brushing my teeth. I wouldn't mind having a secret kingdom through my bathtub, or being a spy (I'm good at observing things and I'm naturally suspicious). I also wouldn't say no to traveling with the Doctor.
Writing, spying, and traveling with the Doctor, we better step aside! Thanks again, so glad you could join us!
Everything in Lily Sparrow's life is mathematical. Every mathematical problem has a solution and for Lily math is the only way to solve life problems too! It was neat how Lily found a way to relate everything to math and tried to solve it in the most logical way possible. But not everything is logical in Lily's life anymore. Not since she found out that her father is alive and the ruler of a magical fairy-tale kingdom. And how does she have to get to said magical fairy-tale kingdom? The most logical way available of course - the bathtub! And the fairytale characters? Lily doesn't know any of the basic fairy-tales that most children hear all the time, so when she finally does know the story of Cinderella from Beauty and the Beast, she still doesn't know what character is being mentioned because they have different names and little spins on their characters! Cinderella = Ella but Prince Charming = Aven. What logical person would have guessed!
Fairy-tales are one of my favorite things to read about, and The Cinderella Theorem put a new spin on them! It was very unique and interesting. I really liked the mathematical aspect of this book. The equations and math terms added a unique sparkle when mixed with the magic of her new double life!
The characters/people in the fairytale kingdom were pretty recognizable but they did have differences (like their names and their ability to vanish). I enjoyed finding out how the Kingdom was run with HEA and the Happiologists. What if everyone had to be happy all the time? And vanished if they weren't?!
As Lily meets new people including her father, arrogant Calo, and her new friend Cinderella, will she discover whether or not the equation normal = happy is always true? And what about the evil Levi, and all of the vanishing characters? If one character vanishes, the whole story eventually vanishes. Can they be saved? It's all up to Lily as she discovers the variables of E.G. Smythe's Salty Fire Land!
While this book is geared towards younger girls any age can enjoy it!
The Cinderella Theorem = (mathematical Lily + newfound father and distracted author mother + arrogant possibly likeable Calo + many fairytale characters + keeping people happy)/|vanishings| • an unforgettable adventure • much more
I received a free copy of this book in exchange for an honest review. All thoughts and opinions are solely my own.
Tour-Wide Giveaway
5 copies of The Cinderella Theorem
(print for US winners, ebook for international winners)
Ends August 31st
a Rafflecopter giveaway
Follow the tour!
August Dates:
11 - Launch
12
Kelly P's Blog
Coffee Books & Art
13
Bookworm Lisa
Shannon's Blog
Simplistic Reviews
14
Skye Malone's Blog
Wonderous Reviews
Mythical Books
15
Rockin' Book Reviews
Sarah's StoryLines
The Wonderings of One Person
17
Katy's Krazy Books
Letters from Annie (Douglass) Lima
18
The Crazy Antics of My Creative Mind
My Devotional Thoughts
The Written Adventure
19
Tween 2 Teen Book Reviews
Mel's Shelves
My Life, Loves and Passion
20
Katie's Clean Book Collection
Book Briefs
Deal Sharing Aunt
21
A Backwards Story
Little Lisa
22
Coffee, Books and Me
I Am A Reader
Dividing by Zero
24 - Grand Finale